The Dancer
By Ursula Sinclair
Writing the story about a male dancer was in some ways very easy for me, in others difficult, but not for the obvious reasons. I'm not male nor am I a dancer. But I raised a dancer and was involved in the world of ballet for fifteen years, so it's a world I am comfortable talking and writing about. The reason it was somewhat difficult was because of the male and female leads that preceded The Dancer. The Ballerina & The Fighter.
Maze, the hero of The Ballerina & The Fighter, was a force to be reckoned with. So the last thing I wanted to do was try to have Dante, the hero in The Dancer, compete with Maze's personality. I knew Maze wouldn't stand for it. Maze is in a class all his own. Lol While I wrote Maze's story I listened to a lot of Eminem, and Coolio's Gangsta Paradise, and Church In The Wild to try to set the tone of that story and get into Maze's head. Also Ivy was a sweetheart inside and out. She was the light to Maze's dark. So I had to stay away from that.
Instead, I gave Dante his own distinct personality, his own personal demons. Along with a female who would soothe those fears and who he'd open up too. Yet, the heroine in The Dancer, Kali couldn't be too sweet. She too had to be almost the opposite of Ivy. While writing the Dancer I actually listened to a lot of Hozier. Love him, saw him in concert. But I also listened to lots of Tchaikovsky. Because these characters had to stand apart from the ones who came before them. I think I did that. Let me know if you agree. Also you'll find these characters very much epitomize society as we recognize it today. Let me introduce you to Dante & Kali. Their story, while the third in the Ballerina Series, can also be read as a stand alone.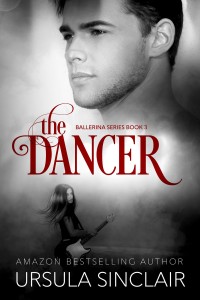 Blurb-
"Let me in."
Dante
It's not easy being a male dancer in a world where women dominate. Ballet. Yeah, I'm a ballet dancer, but I prefer male professional dancer. Still, I am at the top of my profession. Choreographers clamor to create dance pieces for me, and women just clamor for me period. See, being straight in a female dominated profession has its perks. But even though I don't hurt for companionship, I still get up in the middle of the night reaching for something, someone, who is not the person lying next to me. Because I always wake up feeling empty inside…until. She played for me.
Kali
It's not easy being a female in a male dominated profession. Most people can't name five female guitarist, bass or lead, but I bet they can name five male guitar players. Still, I am at the top of my profession. I've proven to the world that music ability isn't driven by gender. It hadn't always been that way, but now I am in constant demand. My time is no longer my own. As for a relationship with a significant other? I stay away from other musicians I perform with or might perform with, like the plague. Not good to mix business with pleasure. Still, I'm only human and I wake up in the middle of the night reaching for something that's just not there. Then one day he danced for me, and suddenly, I was no longer empty inside.
Violence. Due to the content of this work recommended for 18+ only.
The First Book in the series The Ballerina & The Fighter is currently FREE.
Available on:
Amazon
About the Author:
Ursula Sinclair is the pen name for LaVerne Thompson an award winning, best-selling, multi-published author, an avid reader and a writer of contemporary, fantasy, and sci/fi sensual romances. She writes romantic suspense and new adult romance under the pen name Ursula Sinclair.
To learn more about her and her work you can find her here:
Website | Website 2
Facebook Group
Facebook Page
Twitter